Grades Of Material

| | | | | |
| --- | --- | --- | --- | --- |
| Cast Iron | Various | | | |
| Bronze | B62 | | C83600 | Gunmetal, Valve Bronze, Leaded Bronze |
| NiAlBronze | B148 | | C95800 | NAB |
| Cu-Ni alloy | A494 | M35-1 | N24135 | Monel ® |
| Carbon | A216 | WCB | J03002 | |
| Stainless | A351 | CF8M | J92600 | 316 |
| 6Mo | A351 | CK-3MCuN | J93254 | |
| Duplex | A890 | 4A | J92205 | |
| Super Duplex | A744 | CD-4MCu | J93370 | |
| Ni Alloy 625 | A494 | CW-6Mc | N26635 | Inconel ® 625 |
| Ni Alloy C22 | A494 | CX-2MW | N26022 | Hastelloy ® C22 |
| Ti C2 | B367 | C-2 | R50400 | |
| Ti C3 | B367 | C-3 | R50550 | |
| | | | | |

Selecting a range of materials for comparison and simplifying the comparison by taking a representative alloy from each group, standard-specified properties of tensile and yield strength are shown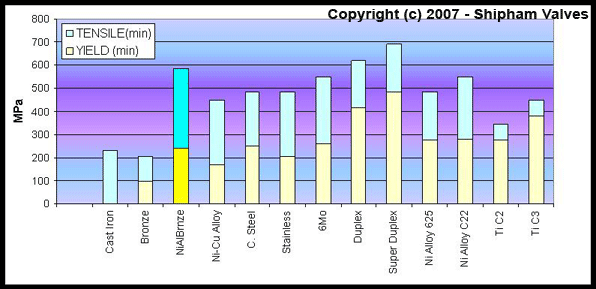 First, the difference between "bronze" and NAB is dramatic. This shows that the association by the fact of being a copper alloy and sharing the tag of bronze can damage the reputation of NAB. The yield strength of NAB is over double that of bronze (also known as gunmetal or valve bronze).
Second, perhaps more surprisingly, is that NAB's mechanical properties are better than those of Ni-Cu alloy (more popularly known as Monel®). While there are high strength Ni-Cu wrought alloys such as K-500, the common cast alloys do not perform so well, as is illustrated.
Third, the common carbon and stainless steels materials do not differ significantly as far as the base mechanical properties are concerned. In fact, the mechanical properties of NAB are only significantly exceeded by the duplex and super-duplex materials.